Here is the complete twitter thread by Shehzad Poonawalla @Shehzad_Ind
The so-called "Mumbai Model"
A comprehensive,detailed ,factual tweet thread documenting why MVA Govt cannot window-dress reality using friendly media, out-of-work actors / SM influencers
(warning: Lutyen's machinery may get mad at me after this Expose)
THREAD STARTS.. 1/20
The SC on 5May suggested to Delhi,adoption of "Mumbai model" to manage o2 supply for COVID patients-This was only in context of Mumbai managing 85K active cases with 275MT even as Delhi with similar caseload wanted 700MT of O2-SG welcomed it too 2/20
https://www.livelaw.in/top-stories/supreme-court-lauds-mumbai-model-for-oxygen-management-says-centre-delhi-can-learn-from-it-173647
But Lutyens being Lutyens- it took that one observation out of context and started hailing the "Mumbai Model"- articles, news reports, cheerleaders on Twitter- all got activated just like the co-ordinated "World's Best CM" CLUB that was activated last year- Remember this
3/20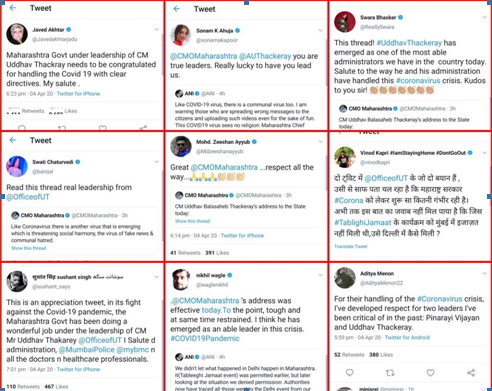 So let us examine exactly what is this great "MVA/Mumbai Model" of covid mgmt hailed by Lutyen's Toolkit Gang
Of India's total 2.23 cr cases-
Maharashtra accounts for highest- 50.5 lakhs
Almost 1/4th cases from 1 state that has only 8.8% of India's population
4/20
MVA model in Maharashtra has seen almost 50K-60K cases daily
800+ deaths daily
Total deaths = 75,277
UP with almost double population has seen 15,170 deaths
Lutyens will say UP under-reports so let us even assume 30,000 deaths-
STILL SEE THE DIFFERENCE
5/20
And is the famed "Mumbai Model" is also based on under-reporting or window dressings deaths?
In 2nd wave: deaths due to other reasons category in Rest of Maharashtra is 0.7% but in Mumbai it is whopping 34.9%!
In first wave: Rest of Maha was 0.8%, Mumbai was just 12%
6/20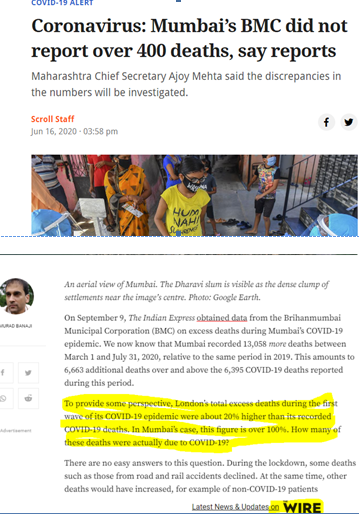 But Lutyen's won't accept this
They claim that see Mumbai has successfully reduced cases-let's fact check Mumbai Model!
Mumbai reduced testing by 40% in last 3 weeks! RTPCR testing capacity= 1lakh/day & avg/day testing is 35K of which 30% is RAT
https://www.mumbailive.com/en/health/covid-19-testing-in-mumbai-drops-by-40-in-three-weeks-64554
7/20
Since Lutyens club loves Court observations to hail MVA Model here are few by Bombay HC on MVA Govt
"If you do not feel ashamed of yourself, then we feel ashamed of being a part of this nasty society. We give you a solution, you do not follow it."
https://www.indiatoday.in/coronavirus-outbreak/story/bombay-high-court-pulls-up-maharashtra-govt-on-remdesivir-procurement-allocation-to-nagpur-1793695-2021-04-22
8/20
While Lutyen's Club is quick at self congratulation & MVA is quick in blaming Centre for everything
B'Bay HC lamented slow pace of investigation to dissuade black marketeers of life saving Remdesivir
https://www.livelaw.in/news-updates/bombay-high-court-takes-suo-moto-case-to-ensure-swift-action-against-remdesivir-black-marketers-173417
9/20
One more key facet of MVA Model
Pandemic par Credit Politics!
Allocation of essential drugs like Remdesvir wasnt based on need but perhaps on political considerations… BBay HC stepped in when Jalna got 30K vials while some other areas got none!
https://timesofindia.indiatimes.com/city/nagpur/on-30k-remdesivir-vials-for-jalna-hc-asks-govt-to-remove-disparity/articleshow/82316724.cms
10/20
And this wasn't the only instance!
On 1 hand MVA blamed centre for less vaccines & on other- Health Minister Rajesh Tope 's Jalna got 60K vaccine doses more than its allotment of 17K when fresh supplies of 26.77 lakh doses were given to state
https://indianexpress.com/article/india/vaccines-falling-short-maharashtra-health-ministers-jalna-district-got-extra-doses-7302302/
11/20
MVA kept blaming centre for no vaccines but on 28th April their claim was busted-
Maha had 9.2 Lakh unused vaccines +3L in pipeline in next 3 days
Problem was not shortage but management Pune a hotspot had no vaccines-Jalna was given extra
https://indianexpress.com/article/india/over-1-crore-vaccine-doses-left-with-states-centre-7291746/
12/20
Lutyens seems a little confused too.
On the one hand they are lauding MVA Model but on the other hand they admit in their own mouthpieces that of the 178 deaths reported in recent weeks due to O2 shortage 30 (1/6th ) took place in Maharashtra
https://science.thewire.in/health/178-covid-patients-died-in-india-because-of-oxygen-shortage-in-recent-weeks/
13/20
And while people are fighting for o2, vaccines- look at what Cong & Sena were fighting over- CREDIT
Cong MLA Zeeshan Siddiqui targeting Sena Minister as he was not invited for inauguration of COVID vaccine centre in his constituency
Priorities?
https://www.freepressjournal.in/mumbai/maharashtra-congress-mla-attacks-minister-for-putting-up-roadblock
14/20
And talking about priorities :
Rahul Gandhi attacked construction of new parliament as 'wastage' while his own MVA govt is spending 900 crores on MLA residences
https://www.opindia.com/2021/05/rahul-gandhi-attacks-construction-of-new-parliament-as-wastage-while-his-maharashtra-govt-is-spending-900-crores-on-mla-residences/
15/20
Another Model of MVA that Lutyen's could tweet about:
Within 120 days,4 hospitals in Maharashtra caught fire, 40+ patients lost their lives, including infants.
And in every case, there was gross negligence, non-compliance with fire safety rules
https://www.theweek.in/news/india/2021/05/04/fire-safety-at-hospitals-in-maharashtra-goes-for-a-toss.html
16/20
Another Mumbai MVA Model- Vasooli from Body bags?
Mumbai's BMC bought body bags at Rs 6,700 per piece, order scrapped after scam alert and decided to place a new order
17/20
https://www.newindianexpress.com/thesundaystandard/2020/jun/14/covid-19-mumbais-bmc-bought-body-bags-at-rs-6700-per-piece-order-scrapped-after-scam-alert-2156272.html
While UP became 1st state to float a global tender to procure Covid-19 vaccines for 4cr doses-Maharashtra which was the first last month to express its so-called intent to invite global tender,hasnt done much yet except blame @narendramodi govt
https://www.news18.com/news/india/up-govt-issues-first-global-tender-for-vaccines-wants-60-lakh-doses-per-month-3718217.html
18/20
EVEN AS CENTRE WARNED MAHARASHTRA OF 2ND WAVE between 22ndSept2020 & Jan28th2021 MVA govt reduced its critical healthcare infrastructure instead of ramping it up!
Here are MoHFW stats that prove lack of planning & vision for which only World's Best CM is to blame
19/20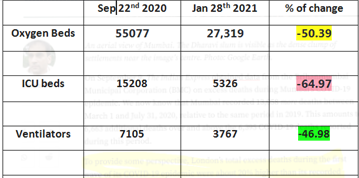 Originally tweeted by Shehzad Jai Hind (@Shehzad_Ind) on May 10, 2021.